Special Offer (Online Startup Program)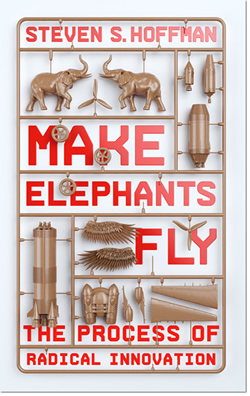 1) Limited Time – Special Offer
This week, get our Online Startup Program for free when you order our book Make Elephants Fly on Amazon or any other site. Just send us the receipt or a link to a verified review, and we'll sign you up for our Online Startup Program!
♦ "Make Elephants Fly is a must read for anyone who wants to imagine what it is like to have all the brains in Hoffman's enterprise innovating while they work."
— Tim Draper, Founder of DFJ, Forbes Midas List of Top Venture Capitalists

♦ "As an experienced entrepreneur and coach of many startups, Hoffman provides a roadmap and set of tools that can help both entrepreneurs and executives master the art of innovation."
— Gil Penchina, Partner at IDG Ventures, Investor in Linkedin, Paypal & Indiegogo

♦ "With so much going against you as an entrepreneur, prep for the adventure by first reading Hoffman's Make Elephants Fly to gain key insights and increase your chances of success."
— Howard Hartenbaum, Partner at August Capital, Forbes Midas List of Top Venture Capitalists, founding investor in Skype
2) Online Startup Program
If you'd rather pay, choose one of the following options:
♦ Large Corporation $1,000.00 USD
♦ Startup Company $500.00 USD
♦ Student $150.00 USD
Each license is good for one person. Once you pay for the Online Startup Program, we'll activate your account within 24 hours.


Contact Us