Younghee Noh, Global Partnership Specialist & Angel investor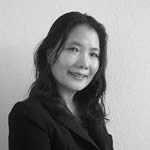 Younghee is CEO of GoGlobal Consulting based in Palo Alto, CA, which provides insight and advice to global enterprises and startups. Her network and influence includes decision makers, corporate M&A team startup accelerators/influencers/investors/advisors.
She is an active investor in several Silicon Valley startups, and currently serves as advisor & mentor to her portfolio startups. As advisor/mentor, she helps develop core business plans and strategic relationships with investors, partners and influencers. She also serves as an advisor to KOTRA (Korea Trade Investment Promotion Agency) Silicon Valley.
She is a highly rated speaker at startup seminars and workshops on globalization, global partnership, entry & marketing strategy and investment & exit strategy.
Previously she worked for Lionbridge Technologies, the largest globalization service provider, as Korea country manager. During her tenure, she created an organization from ground zero resulting in increased revenue and providing consultation to giant Korean companies such as Samsung/LG/Hyundai. She holds a MBA in Marketing from Korea University and a Master's Degree in e-commerce from IIT (Illinois Institute of Technology).