Deepak Jeevankumar of General Catalyst Partners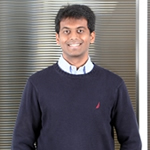 Deepak Javeenkumar focuses on disruptive investments in cloud computing, databases, data center infrastructure and clean energy. He is based in our Palo Alto office. Prior to joining GC, Deepak worked at Sun Microsystems and was an intern at the Yale Investments Office.
At Sun, he was deeply involved in designing some of the top 10 supercomputers in the industry and led the high performance computing practice in the Asia-Pacific region.
At the Yale Investments Office he helped in valuing complex clean energy financial instruments with multiple risk factors. As a student at Yale, Deepak played a key role in starting the first university-wide energy club, the YCEI Student Congress. Deepak is a graduate of the National University of Singapore, earning a B.Eng. in Computer Engineering; the Singapore-MIT Alliance, earning a S.M. in Computer Science; and the Yale School of Management, earning an M.B.A.